Italian school Società Dante Alighieri Florence
You are here: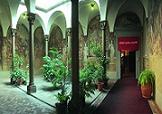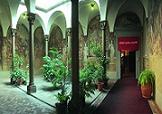 San Lorenzo
Centro Storico
Via Gino Capponi, 4 - 50121 Florence Italy
THE
SCHOOL
The Società
Dante Alighieri
is the oldest Italian association to deal with teaching the Italian language to foreigners, and has done this ever since its founding. The Committee of the Società Dante Alighieri of Florence is the Society's only resident one in this city. In thus representing to all effects the Società Dante Alighieri, a non-profit organisation founded in 1889, it offers
courses
in the Italian language and culture that are authorised by the Government with Presidential Decree No. 1892 of 16 December 1960. Other institutions in Florence named for the Divine Poet are not representatives of the Società Dante Alighieri. Both the administrative department and the school are housed in a single location, in Via Gino Capponi No. 4. THE PREMISES The premises are prestigious ones, both for their antiquity (15th c.) and for the beauty and value of the frescoes in the cloister, which were magnificently restored after the 1966
flood
. The cloister, known as the "Chiostro di S. Pierino" or "Chiostro della Compagnia della SS. Nunziata", is the destination of numerous visiting art scholars. The environment is very distinctive and unusual: both the great hall where cultural manifestations and
concerts
take place, and also the cloister with its discreet light and its coolness, welcome the students, involving them in an atmosphere of the past. Thanks to its location in the heart of Florence, when students cross the threshold of the door of the school at the end of lessons, they are immediately immersed in the rapid pulsation of modern Florentine life. There is the crowded Piazza SS. Annunziata with its magnificent basilica and Brunelleschi's famous "Loggiato degli Innocenti"; the equestrian statue to Ferdinando I° by Giambologna; the two fountains by Pietro Tacca, which rise in the centre of the square like two
jewels
; the nearby Pergola
Theatre
;
Piazza del Duomo
with the Cathedral of Santa Maria del Fiore; the baptistery and Giotto's bell tower;
Piazza della Signoria
, with
Palazzo Vecchio
and the loggia of the
Uffizi gallery
that at all times is animated by tourists coming literally from the ends of the earth.
Where we are