The Museum of Carriages Florence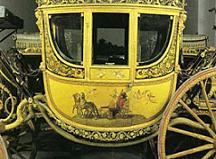 The Museum of Carriages situated in the projecting wing to the right of the Pitti Palace preserves a fine collection of carriages once belonging to the Medici, Lorraine and Savoy Houses.
These objects, conceived as functional rather than as works of art, convey an impression of the atmosphere of luxury and fashion characteristic of court life through the centuries.
The museum is at present closed to the public for restoration and refitting.