Tavern Pepò Florence
You are here: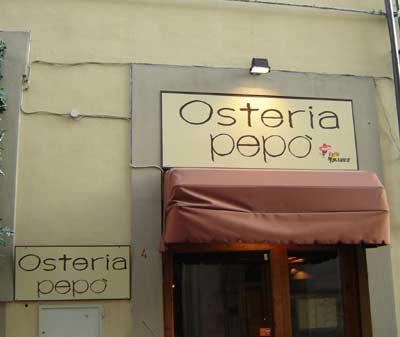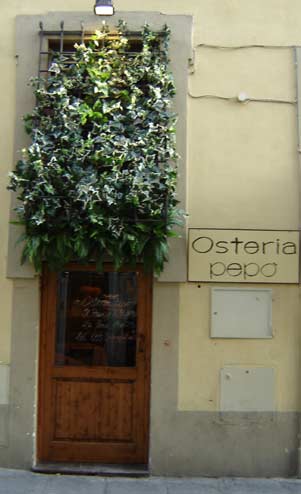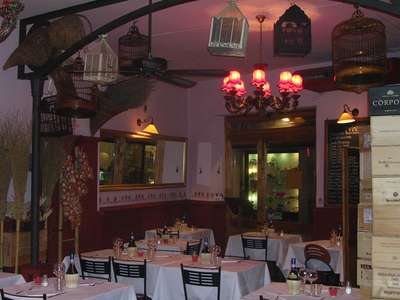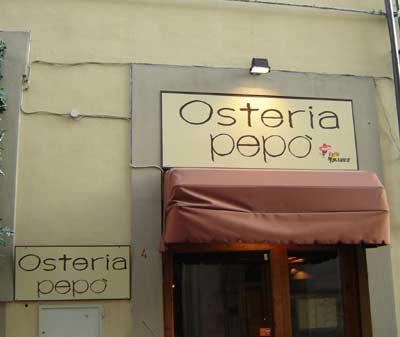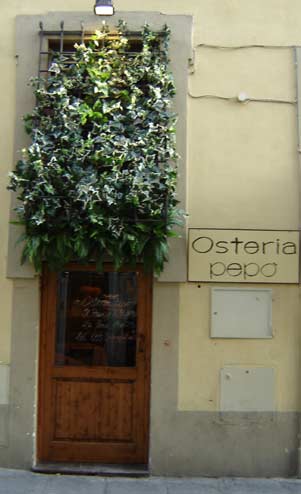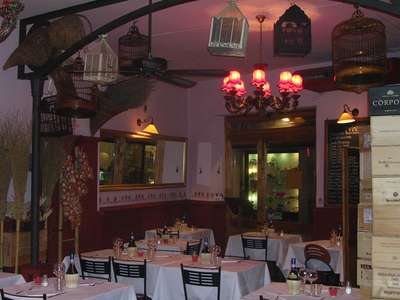 Centro Storico
Via Rosina, 4/6r - Firenze
Classico
The Pepò
tavern
is found in Via Rosina, 4/6r - Florence to two steps of the Mecato Centers them of Saint Lorenzo. The road and the
parking
are opened 365 days per year being to outside of the ZTL. E' like entering in likeable and warm bistrot a loaded one with scents, colors and woods of Tuscany.
Il Menu Per Iniziare (da 4,00 a 10,00 euro) Crostini misti di tutto un po' Aringa marinata alla fiorentina Acciughe marinate con pane e burro Fagioli cannellini e caviale (piatto del 1824 - Ristorante Paoli) Affettati misti Affettati misti e Formaggi Coccoli prosciutto e stracchino Piatto ricco (consigliato per 2 persone) Le Zuppe e Le Paste (6,00 e 7,00 euro) Crema di zucca con crostini e formaggio Pappa al Pomodoro La Vera Ribollita Pennette della Sor Rosina Pennette strascicate bene Lasagne fatte in casa di S.Lorenzo Le Paste Espresse (o come vuoi se possibile) (7,00 e 8,00 euro) Spaghetti del Sor Enrico Pappardelle al sugo di coniglio Topini di patate verdi al ragù Ravioli di patate burro e salvia Spaghetti alle vongole La Ciccia dal tegame (10,00 euro) Trippa del mercato centrale Ossibuchi con tutti gli odori Polpette di filetto in pomarola Coniglio in umido con olive Pollo alla cacciatora Peposo della fornace del Sor Roberto Bollito misto con salsa verde e maionese (fatte in casa) Seppioline inzimino Dalla Padella (10,00/12,00 e 14,00 euro) Braciola fritta con concasse di pomodoro fresco e basilico Fritto misto di coniglio, pollo e verdure Filetto di maiale all'aceto balsamico Filetto del pepò ( al pepe verde ) Alla brace (11,00/14,00 e 16,00 euro) Tagliata di petto di pollo con insalatina e parmigiano Tagliata con misticanza di verdure e parmigiano a scaglie Bistecca alla fiorentina Filetto alla Griglia Per accompagnare (4,00 euro) Fagioli al fiasco Cavolfiore rifatto al sugo Spinaci saltati Patate al forno Insalata mista I Dolci fatti in casa (4,00 euro) Tiramisù Panna Cotta Cheesecake Biscotti di Prato e Vin Santo Tortine al cioccolato (dolci e dolcezze ) Tartufo bianco o al cioccolato Gelato di crema con cioccolata calda Sorbetto al limone
Where we are
Contacts us with the following form