Castellani Palace Florence
You are here: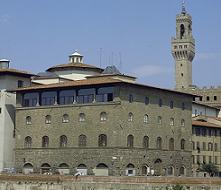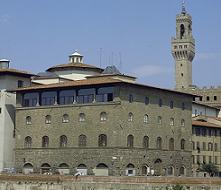 Piazza de' Pitti - 50125 Firenze
0
The
Castellani palace
, home to the Institute and
Museum
of the
History
of Science, is adjacent to the
Uffizi Gallery
and has its main façade and entrance into Piazza dei Giudici, while on the South-West side it overlooks the Arno.
The history of the building is one of the oldest in our city, since it dates back to before 1180 when, still a castle and part of the walls of Florence, the palace passed from the Altafronte family who lived there, to that of the Uberti who it served as a fortress and shared its property with the Giandonati.
In 1333, when the
flood
of the Arno still swept the Ponte Vecchio in its waters, even the Palazzo d'Altafronte was partially destroyed. It was then rebuilt, but underwent considerable transformations with time, so much so that in 1572 they appeared on the facade of the frescoes by Bernardíno Barbatelli, known as the Poccetti.
The Castellani were the last private owners of the castle after the families of Uberti, Bardi, Buoninsegni and in 1574 the building passed to the Judges of Ruota who moved here from the Palazzo dei Podestà. A memory of this dwelling is still present today when the two steps of the entrance to the sides of it are ascended, the ancient arms of two magistrates are found, weapons which still retain their original colors and which, as was the custom of the praetorian palaces. , they probably had to appear on the facade. One of these weapons, under the Latin inscription, bears the date 1581, while the other one is dated 1577. Moreover, on the outer walls, are seen carved in stone, the emblems of the art of the Judges and Notaries which consisted of a star gold in the silver field. The transformations became more and more even in the following centuries, until the building reached sensible changes in the past century during which it was finally occupied by the National Library, before it moved to the largest site of Piazza dei Cavalleggeri. The Institute and
Museum of the History of Science
passed in this building in 1929.
Where we are