The Chianti in Tuscany
You are here: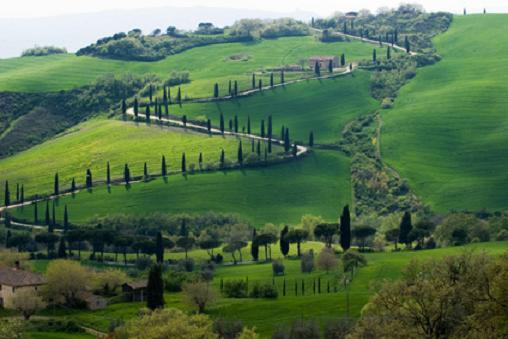 The
Chianti Mountains
are located between the cities of
Florence
,
Siena
and
Arezzo
and mark the border in the east with the Arno Valley and the Val di Chiana. At the foot of this small mountain range are the rolling
hills
that are differently colored in various period of the year.
Often dominant position on the tops of the hills are many castles with towers that in the past were residences of lords and serfs, veritable fortresses built to defend against attacks by small armies of mercenaries. The dominant tree in these areas is the
cypress
, which often acts as a frame to small streets leading to a church, abbey or farm. In the area there are also the source of many rivers among which: Pesa, Ema, the Arbia, the
Greve
, Amber, the Staggia, the Ombrone and Elsa.
The name
Chianti
has its origins not well known and different sources give conflicting opinions: some recalls the flapping of the wings, the screams and sounds of horn traceable to the ancient wild boar hunts, for others, it would be simply derived from ancient Etruscan word Clante. In fact it was in the Etruscan period that began the deforestation of the area in order to cultivate the vineyards and get excellent wines. The
Etruscans civilization
was the first 'civilized civilization' that lives in the region of Tuscany and precisely in this area were found many archaeological from this period, and this was the place of passage for raw materials from mines on the Elba island to other areas like
Fiesole
, Arezzo, Val Tiberina and Rome.
In the following period the Chianti region passed to the
Romans
who continued the cultivation of the vine and then the Lombards were to have dominion over this area. Subsequently, during the period of the Middle Ages, the area was disputed between the lordship of Florence (headed by the Guelphs) and Siena (headed by the Ghibellines). Finally, during the dynasty of the Medici of Florence, the Chianti region was a period of peace and prosperity in which he was always improved the agriculture of vineyards that produced wines more and better quality.
These are the main areas in Chianti
:
Location
Chianti 'historic'
- Castellina in Chianti
- Gaiole in Chianti
- Castello Brolio
- Radda in Chianti
- Volpaia
Area of Chianti Classico
- Barberino Val d'Elsa
- Tignano
- Castelnuovo Berardenga
- San Gusme
- Vagliagli
- Greve in Chianti
- Montefioralle Greve in Chianti
- Montegonzi di Greve in Chianti
-Dudda in Chianti Greve in Chianti
-Convertoie di Greve in Chianti
-Poggibonsi
-San Casciano in Val di Pesa
-Faltignano di San Casciano in Val di Pesa
- Campoli San Casciano in Val di Pesa
- Montefiridolfi di San Casciano in Val di Pesa
- Greve in Chianti
- Sambuca Val di Pesa
- San Donato in Poggio di Val di Pesa