Monumental Apartments Florence
You are here: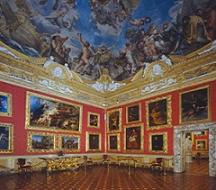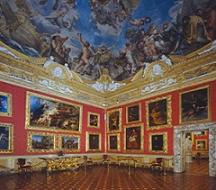 Piazza de' Pitti, 1 - 50125 Firenze
8
The
Monumental apartments
occupy the right half of the main floor of the
Pitti Palace
and are an important record of the three main phases of the palace's
history
.
To the first period (mid-sixteenth to end of the eighteenth century), characterized by the sumptuousness of the Medici court, belong the rooms overlooking the Piazza once occupied by the Grand Ducal heir, with corresponding rooms on the other side for his wife.
Today, they retain the appearance given them by the Grand Prince Ferdinando de' Medici who lived there until his death in 1713. A few treasures remain from the Medici period, among them the precious ebony and pietra dura holy water stoup of the Grand Duchess Vittoria della Rovere (seventeenth century) and the Chapel, once the bed alcove of the Grand Prince Ferdinando; its late seventeenth century character is typified by the stoup designed by Giovanni Battista Foggini (1652- 1725) and the elaborate frame on the Madonna by Carlo Dolci (1616-1686).
On the extinction of the Medici dynasty in 1734, the apartments passed to the reigning Lorraine family and underwent restorations and refurnishing according to the changing taste of the period.
From this time date many Neo-classical frescoed ceilings and the delightful oval Queen's Dressing Room. This is decorated with silk panels hand-embroidered to the designs of Ignazio Pellegrini and has a ceiling of coloured Rococo stuccoes.
At the time of Italy's unification and when Florence was briefly capital of Italy (1860-70), the apartments were used by King Victor Emanuel of Savoy; some rooms were completely refurnished and carpeted according to the taste of that period; an example is the neo-Baroque red damask in the throne room, dating from the second half of the century.
Three historical moments and styles are seen side by side in this series of rooms, giving a sense of the growth of the palace over long periods of time. Other rooms where many portraits of the Medici and Lorraine families are shown also form part of the monumental apartments, and also house important series of eighteenth century French tapestries such as those showing the Story of Esther and the Hunts of Louis XV.
Among the rooms placed at the sides of the original core of the Pitti Palace, the most notable are the Sala di Bona frescoed by Bernardino Poccetti in 1608 and the White Room, completely decorated with glowing stuccoes by Grate Albertolli in the Lorraine period. In this room are held exhibitions and fashion shows, for which Florence is justly famous.
From Tuesday to Sunday, 8.15 am - 6.50 pm
Closed on Monday, 1th on January, 1th May, 25 April
On January the Monumental Apartments are closed
Where we are